SEO for Instagram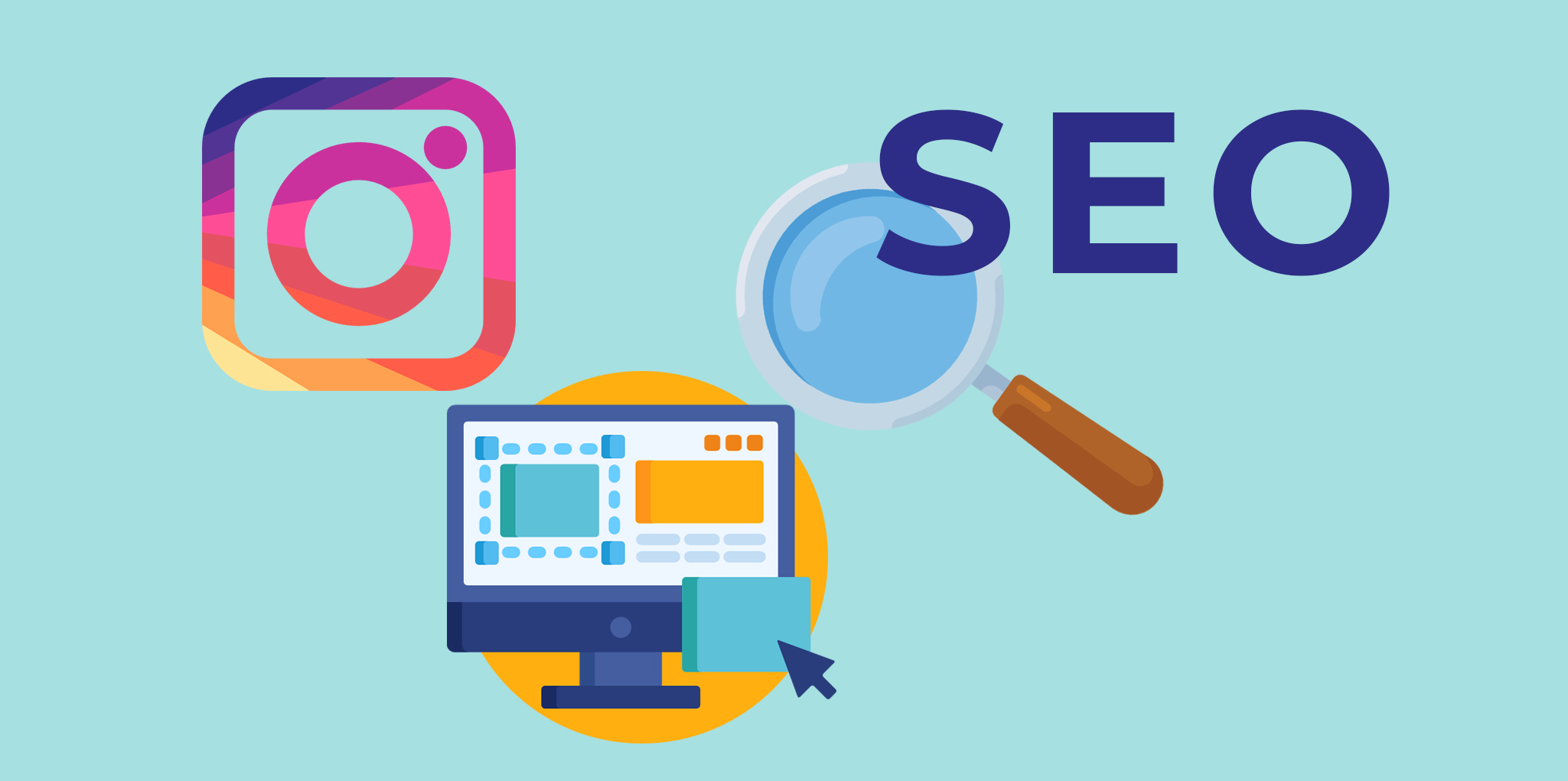 Search Engine Optimization seems to be for websites, but what does SEO for Instagram have to do with it? Why do you need search engine optimization for your Instagram account? It's all very simple! Obviously, some accounts come up first when a user searches Instagram and even Google, while others don't come close. And it's not just about the number of followers or the number of likes, posts or storis. It's no longer enough to post even 20 pieces a day. Massfollowing, massfollowing and masslucking also work poorly - social networks are perfectly capable of fighting against inflated metrics. 
Want more followers and customers to your account? Then you should do some search engine optimization on Instagram. How does it work? Read on!
What useful you will learn from the article SEO for Instagram:
How to attract traffic from Google and Yandex search engines to your Instagram account using white methods.
How to get into recommended Instagram accounts that are prominent for users' search queries when they search.
How to optimize your Instagram profile for search on the social network.
Why the number of storis and posts is already of secondary importance.
Whether it is necessary to optimize old posts. 
How to properly optimize photos, posts on Instagram.
Who will help to do the right SEO for Instagram if you don't have enough time or knowledge.
First let's understand SEO for Instagram, why is it so important? Here's an example: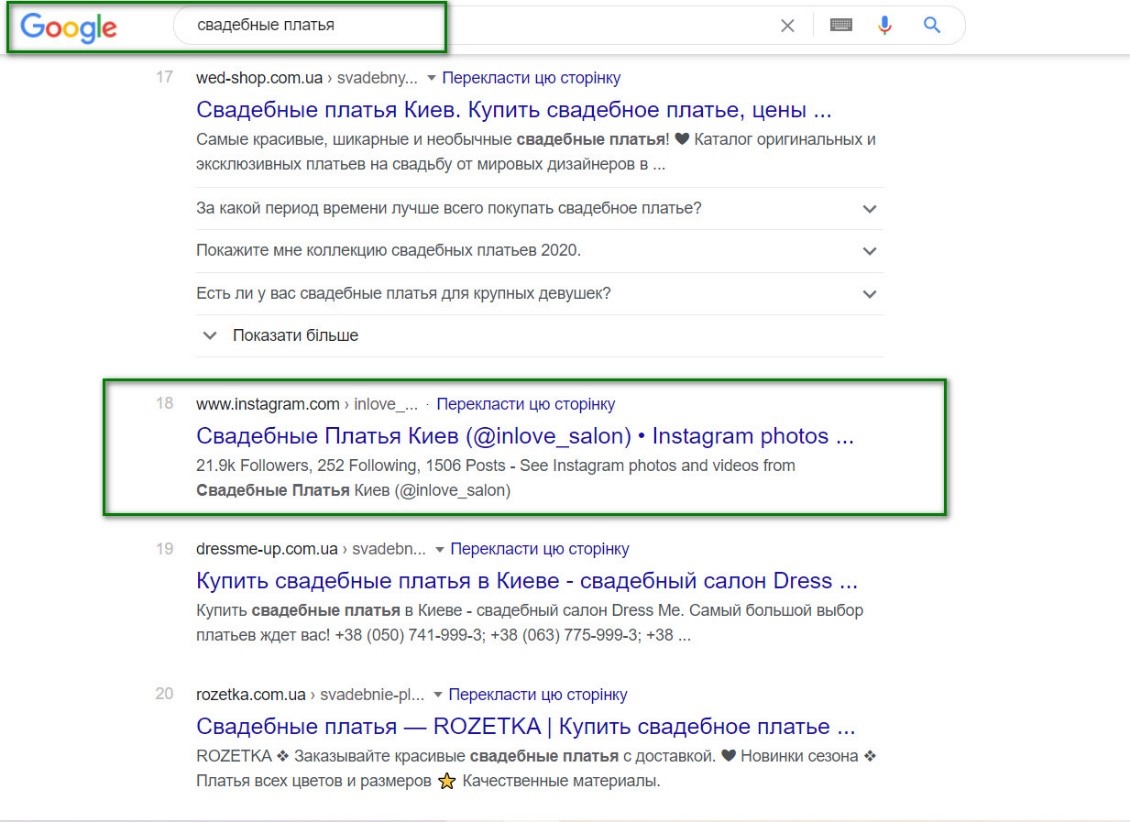 We entered a search query in Google and we see Instagram profile on the second page (second page so far). Today social networks are very well indexed by search engines, and those accounts that do SEO for Instagram get customers not only through the social network, but also through the search engines Google and Yandex. And search engines get billions of searches every day!
Also, search engines, in addition to web search, have apps that are even more "tailored" to user queries and are always on hand in the phones of tens of millions of people. Therefore, if you do SEO for Instagram correctly, traffic to your account will increase many times over and getting to the first page of search engines for relevant user queries will be easier than ever. 
Another example. Now let's enter a query in the Instagram search itself: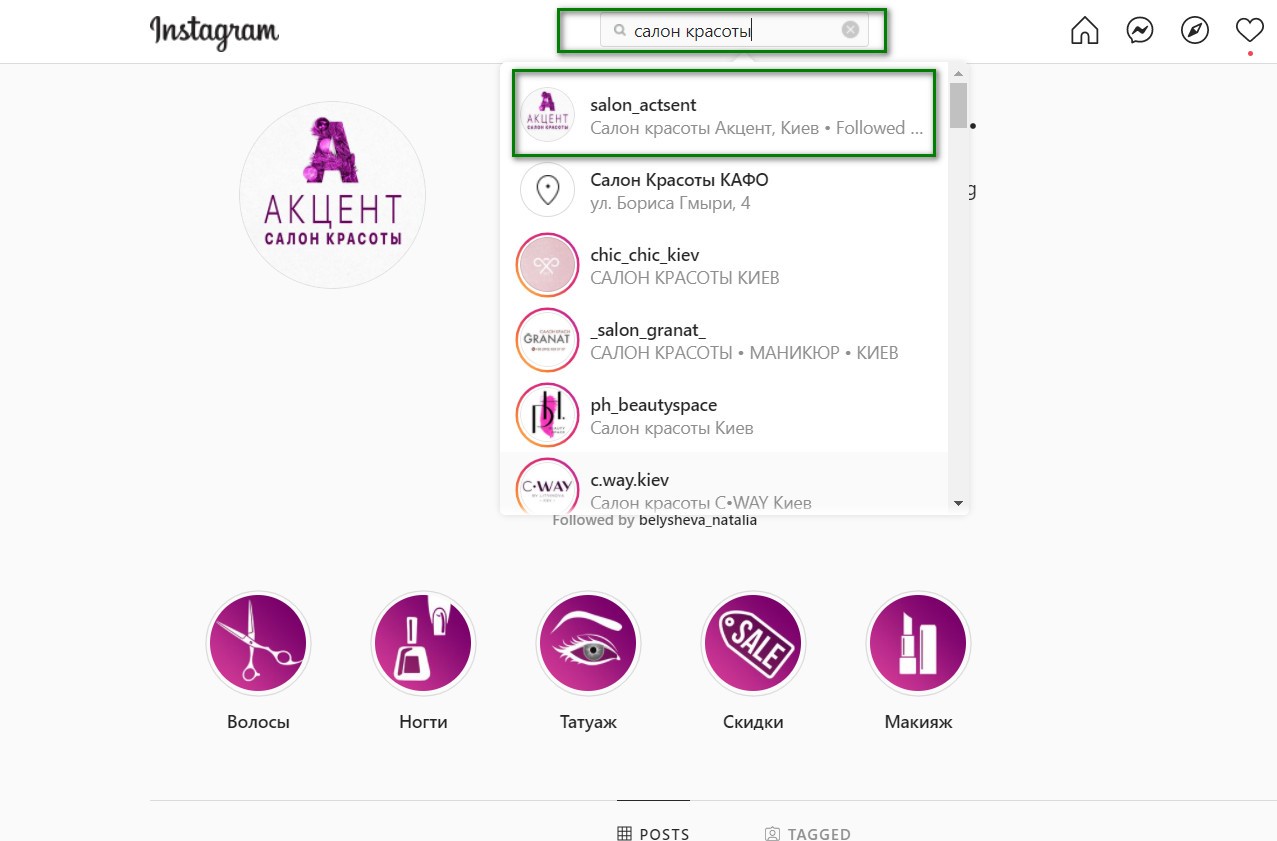 This particular salon comes out first among the recommended ones from thousands of pages. By the way, our client! Natural (organic) traffic received through Instagram searches is one of the main ones for the account. While the work on the account is standard, and the number of subscribers is not counted in hundreds of thousands of people.
What is the secret of such popularity of this salon among several thousand salons in Kiev? Read on!
Of course, a different salon can appear among the first ones in another region, because Instagram asks each user to indicate the region where he is located for a reason. Hence an important conclusion - optimize your account for a certain region and a certain location. If you have a more global task - something like taking over world domination with the help of Instagram - then there's a strategy for that too!
How to attract traffic from the search engines Google, Yandex and others to your Instagram account using white methods
So, you have an Instagram account and it needs to be optimized for search. Where to start?
We recommend starting with keyword analysis in Google search - use the "Keyword Planner", and collect statistics on relevant hashtags using services. The topic of hashtags on Instagram is a very voluminous one, and there are many services: for example, tagsfinder.com or ingramer.com. But the main secret is to use not the most popular tags, for which there is already a mass of content and among which it is impossible to break through. Use hashtags that are gaining popularity - trending, so to speak, and, of course, applicable to your location, products and services. The maximum number of hashtags is 30. Avoid common words. Create a proper list will help SEO specialist - by all means contact our company to create the right semantic core.
Next, the collected keywords should be applied in the description to the posts. Use them regularly and you will have a much better chance of becoming one of the first on the search results page. 
How to get to the recommended Instagram accounts, which are listed according to users' search queries
This is where a nickname comes in. This is the same "username" that is displayed when you, for example, in a storis via @, want to tag a person. When filling out your profile header, put a name there that others can find you under. It should be an easy to remember name. For example, your company name or your first and last name if it's a personal account. If you use an underscore, put only one, and a short one. And as for dots, it's better to avoid them at the beginning and at the end. 
How to optimize your Instagram profile for social network searches
The main point to take care of while optimizing your Instagram account for search engines is the "Name." When you create your profile header, there are several lines in front of you that need to be filled out. The first is the "Name." It needs to be spelled out using keywords. Let's look at an example. If you have a beauty salon, which is located in Kiev, it is desirable to specify that it is a beauty salon, its name and location. But do not write too much, because the number of characters is very limited. 
Why the number of storis and posts is already of secondary importance
No need to sit and agonize over ideas for storis and posts for every day. After all, quantity has long been irrelevant. Quality is much more important.
So use good quality, unique photos/videos when filling your account with content. That is, it is desirable to publish photos either taken by you or those that you have commissioned from the photographer, rather than those that have long been walking around on the expanses of the Internet. Why? Because in this case, search engines will accept the posts as non-unique content and will lower the page in prominence. If anything, processing someone else's photo in an editor won't make it unique either. Also, if you take pictures, it should be clear what is depicted there. This way when a user searches for an image, there's a good chance your photo will be shown in search results. 
Is it necessary to optimize old posts and how to correctly process photos on Instagram
Old posts need to be optimized, even if it seems to make no sense. We'll tell you more about that below. In the meantime, remember: before you publish a post, write the ALT-text to the photo. 
What is it for and how to add it?
Alternative text appeared back in 2018, but it was created for people with vision problems. Then ALT-text began to be actively used to increase coverage on social networks. And it really works. How does it work?
The text you wrote, the search engine notices and picks up the picture, when it fits the user's query. So the person opens your picture and clicks on a link to your profile.  
How to spell alternative text on Instagram?
There are two ways. The first: when you upload a photo for publication. You have to go to the advanced settings and there you will see this option. And the second way: write it at the bottom of the photo during editing. And that means you can optimize old posts this way. 
You are given 100 characters to write alternative text, but that doesn't mean you have to use all of them, or that you can duplicate the text you wrote in the description. In the ALT text box, write what's shown in the photo. Use high-frequency words for the description, that is, those that are most likely to be entered by the user in a search engine. If you're not sure what to do, contact Genesis Group. Our experts will help you properly optimize your Instagram profile. 
As you can see, today it is not enough just to post photos with descriptions. In addition to this, a lot of work needs to be done. 
And there are a few more important things to consider if you have your own company.
If you have a personal site, add links to your social media pages. In this way, those who come to the web service will be able to go to your account, read your profile and subscribe. 
Create a profile of your company in Google My Business. It's quick and free. Be sure to add an Instagram page there.
If you don't have time to do SEO for Instagram or promote your account, be sure to contact Genesis Group. We will do everything qualitatively and within the set deadline.